Our purpose & Mission statement
We are a genealogy oriented association dedicated to researching the Eaves lineage.
Help research lines and establish relationships with others around the world.
Open additional avenues of genealogical research.
Establish the fact/fiction of published Eaves records.
About the Eaves surname
The Eaves surname is associated mostly with the British Isles. Distinctive Eaves lines have been documented in the United States since Colonial times and are now found in every state. Descendants of British Eaves can also be found in Australia, New Zealand, Canada and traces in India, Japan and South Africa. The Eaves still maintain a strong presence in England, Australia and New Zealand.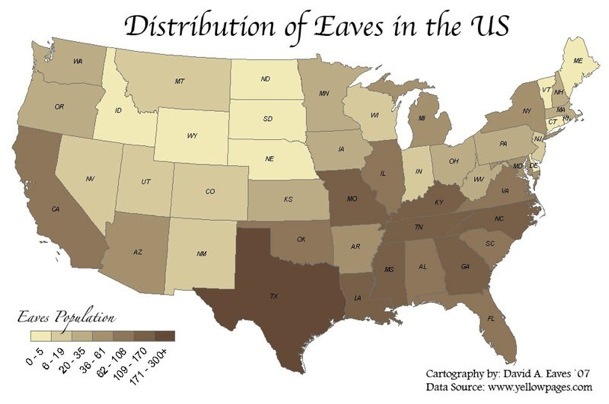 AL | AR | AZ | CA | CO | CT | DC | DE | FL | GA | HI | IA | ID | IL | IN | KS | KY | LA | MD | MA | ME | MI | MN | MO | MS | MT | NC | ND | NE | NH | NJ | NM | NV | NY | OH | OK | OR | PA | RI | SC | SD | TN | TX | UT | VA | VT | WA | WI | WV | WY